Alex Makes Art Harvesting in Wool at Greentail Table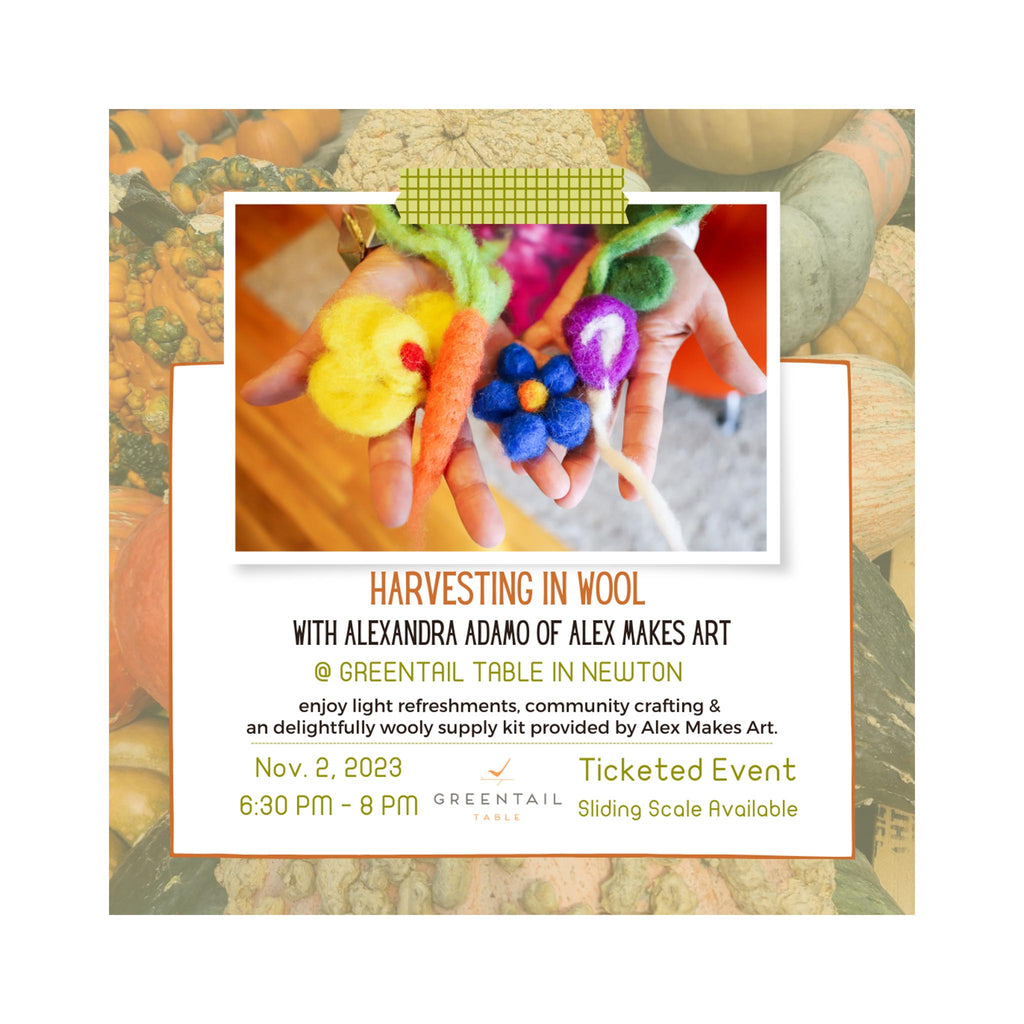 Please join us for a Needle Felting Harvesting Workshop on Thursday, November 2 from 6:30-8:00PM at Greentail Table in Newton! Greentail Table will be hosting Alexandra Adamo of Alex Makes Art , who presided over a very fun Needle Felting Succulent workshop back in April.
Each participant will be felting a pumpkin, gourd or root vegetable of choice. Alex has curated a selection of appropriately colored pieces of  wool roving, 100%  wool felting mats that are reusable for craft breaks to come, and plenty of needles for rhythmic stabbing (yes, you read that right!).
You can be looking forward to light refreshments and snacks as we create community and enjoy a night of skill building. Alex will chat about her English angora bunny, crafting with Gotland and Leicester longwool sheep, and will give a nod to her fibrous installation that will wrapping up its six months stint in the Linde Family Wing in the Museum of Fine Arts, Boston, on October 22. Its fabulous, so try to take it in, if you have not already!
This is event is limited to 15 participants on a first come, first served basis. Reserve your ticket for this Alex Makes Art x Greentail Table event for $85.00. Please add this item to your cart to guarantee your spot!
We are reserving a few spots on a sliding scale basis ($45-$75), first come, first served.  Please specify this request in an e-mail to Linda at cutomerservice@greentailtable.com. Let her know what you can pay and she will follow up with you on a case by case basis to confirm a spot. We are relying on the honor system in terms of need.
For more information please call the shop at 617-244-3510.
We are looking forward to this great event and hope to see you there!