Swing Into Spring Microgreens Event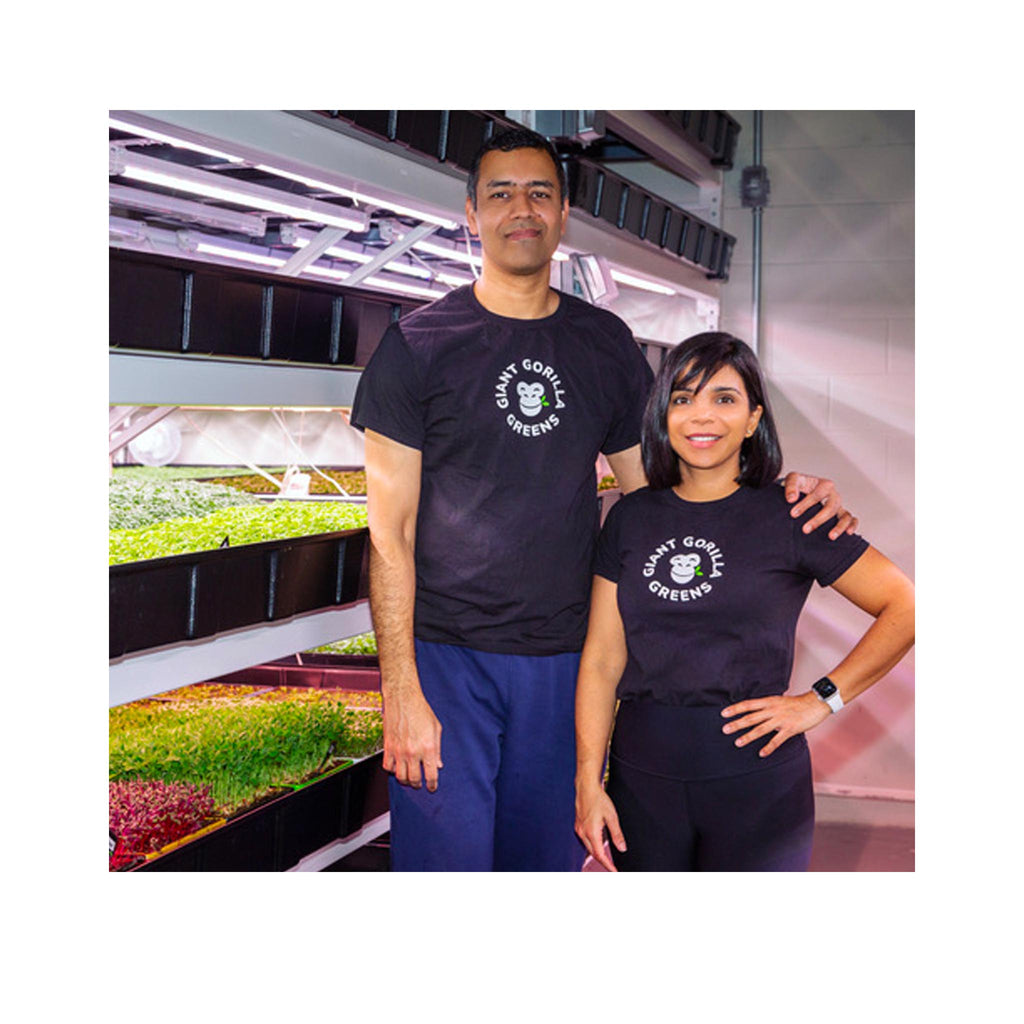 Giant Gorilla Greens is a USDA certified, indoor, vertical farm located just north of Boston in Woburn, Ma, growing microgreens. Microgreens are bigger than sprouts, but younger than baby greens. Typically harvested when they're just 7-14 days old, these young greens are very dense in nutrition, while also holding a tone of visual appeal!
The story behind Giant Gorilla Greens started when the founders, Smita Das and Uday Ramakrishna, were faced with a life altering diagnosis- Smita was diagnosed with multiple Sclerosis, a progressive, degenerative illness that can lead to disability. To save Smita's health and her career as a pilot, the couple spent time ready and researching alternative therapies. They found evidence based research that recommends a whole foods, plant based diet to address chronic illness. Together, they began making a shift to how they ate, adapting recipes to suit their new lifestyle.
Uday's research for the most nutrient dense food led him to microgreens! 
Smita & Uday's business has now evolved into a 3000 sq. ft. indoor farm that supplies to retail stores in Boston, Cambridge, and produce companies that bring these microgreens to your favorite restaurants in the New England area. The focus at Giant Gorilla Greens has been to grow the most nutritious greens, so that everyone can draw the maximum nutritional benefit from them.
We will be hosting Smita in the shop on Thursday, April 20 at 6:30PM a free Swing into Spring with Microgreens event. The event takes place at Greentail Table located at 343 Watertown St. in Newton. Smita will  be highlighting two of their most popular products and will serve up an easy salad recipe using their best selling House Mix, a vibrant, herby microgreens mix of kale, arugula, broccoli, basil, and amaranth. This bright mix has pops of pink and purple, while bin very mild in flavor. She will also bring Cinnamon Basil, which is a unique, fragrant basil that has tasting notes of licorice and cinnamon, which is great for desserts,  stews, salads, pasta, cocktails and more. We will have time for tasting, q and a's, as well as time to peruse cookbooks and to shop. 
A limited stock of House Mix and Cinnamon Basil will be available for purchase at the event. Pre-orders are welcome via the Giant Gorilla Greens website. Use code: SPRING5 to order for pick up at the event.
There is no charge to attend but please add this item to your cart and check out or call the shop to guarantee your spot! 
For more information please call the shop at 617-244-3510.
We are looking forward to this great event and hope to see you there!