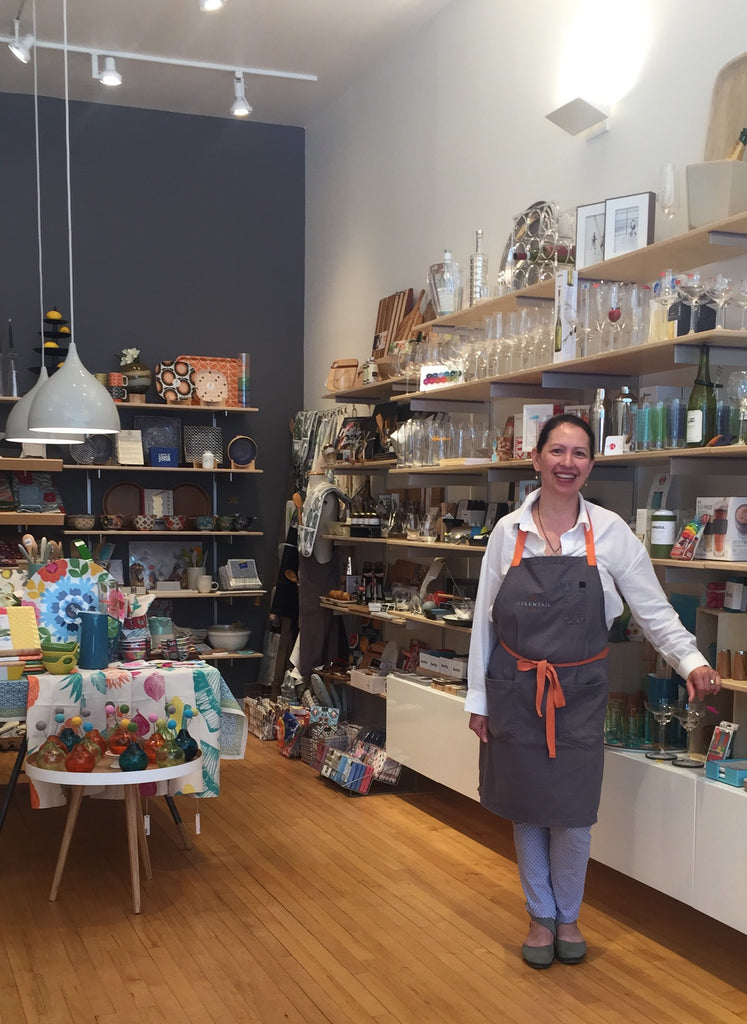 We mark 5 years in business this week and count ourselves so fortunate. What started out as a crazy retail dream has turned into a blossoming reality. We are so grateful for all you have done to support us over the past 5 years! 
Endless people, including you, have contributed to our success and deserve our gratitude. Five years ago, an amazing cadre of friends answered the call to help paint the store basement, unpack, print and ticket all of the new merchandise and then showed up on opening day, July 10, 2014, to help test our new POS system and become our first customers. Our first few weeks were filled with a revolving door of friends who were so excited to finally step into the store which was in my head for so many years. To this day, I am still moved by the undying support of friends and family near and far who shop online or who make a pilgrimage to the shop regularly or whenever they are in town or in the country.
Right from the start, the Nonantum Neighborhood Association, led by Terry Sauro, became champions of our new enterprise and helped make the neighborhood aware of our existence and has supported us non-stop. I am honored to serve as business representative on the NNA board and could not be more pleased to have the store based in the wonderful village  of Nonantum in the city of Newton. Newton, Massachusetts, makes "Shop Small" and "Shop Local" a mantra and a mission.
The Newton-Needham Chamber of Commerce has also been a major supporter. Within a very short time of joining the chamber, they held  2 networking events at the shop, which in turn, introduced local business people to Greentail Table, many of whom have become ardent supporters and customers.
Within a few months of opening our doors, we began cultivating a following of loyal and dedicated customers. Many of whom became raving fans and helped to spread the word throughout Newton and beyond, among their friends, neighbors, and colleagues. We are honored to count many of the early adopters among our fiercely loyal customers today. Too many to name individually, but you know who you are! 
We have also enjoyed the support of many of our makers and vendors who have conducted workshops on color to table settings to terrarium making. We've had chefs and cheese mongers, cookbook authors, candy makers and chocolatiers, florists, photographers and more grace our doors and share their skills and talents with our customers. Potters, candle makers, textile designers, a pyrographer, and so many other makers have spent time in our shop sharing their time and talent as well as introducing their fans to Greentail Table. 
We are also grateful to Chris Lyons, who assisted us on the PR front, as well as to all of the bloggers, editors, art directors, stylists, and photographers who have helped spread the word about Greentail Table in print and online in the Boston Globe, Boston Magazine, Boston Home, New England Home, and the Newton TAB. Editorial coverage has been critical to our success. One of the best anniversary gifts we've received is our inclusion in Boston Magazine 2019 Best of Boston List for Best Entertaining Essentials!
Other key players who have been paramount to our success are our Greentail Table team members--for which we are hugely indebted: Marilyn, Mary, Alicia, Parisa, and our on call "shop girl" Katie. Their, professionalism, customer service and loyalty have helped cultivate our success. We could not do it without them!
Another key ingredient of the Greentail Table team is our talented graphic designer, Maribel Sandoski of MBS Creative, who created our logo and all branding materials and who is responsible for all of our beautiful ads. We are so fortunate to be the beneficiary of  her endless creativity and mad skills. She makes us look good!
And finally, my gratitude list would not be complete without mentioning my husband, Jack, who has been by my side every step of the way. From business planning to store design and endless hours of tech assistance. His tireless support has fueled me and Greentail Table. My son, Nick, has also been a big booster and has logged time behind the register and in the basement, when needed. I could not do any of this without their love and support.
Thank you to each and everyone who has shopped with us. Your support of a small brick and mortar shop and online retailer is the reason we can celebrate our 5th year in business. In the age of Amazon, your support of small business is more critical than ever. Small shops and businesses, like ours, help to encourage a sense of community and to create the fabric of our towns and villages. We so appreciate your patronage and your commitment to shopping small and local. 
We look forward to our next 5 years and hope we can continue to surprise and delight you with unique products and warm customer service.
Gratefully,
Linda de Valpine
Owner