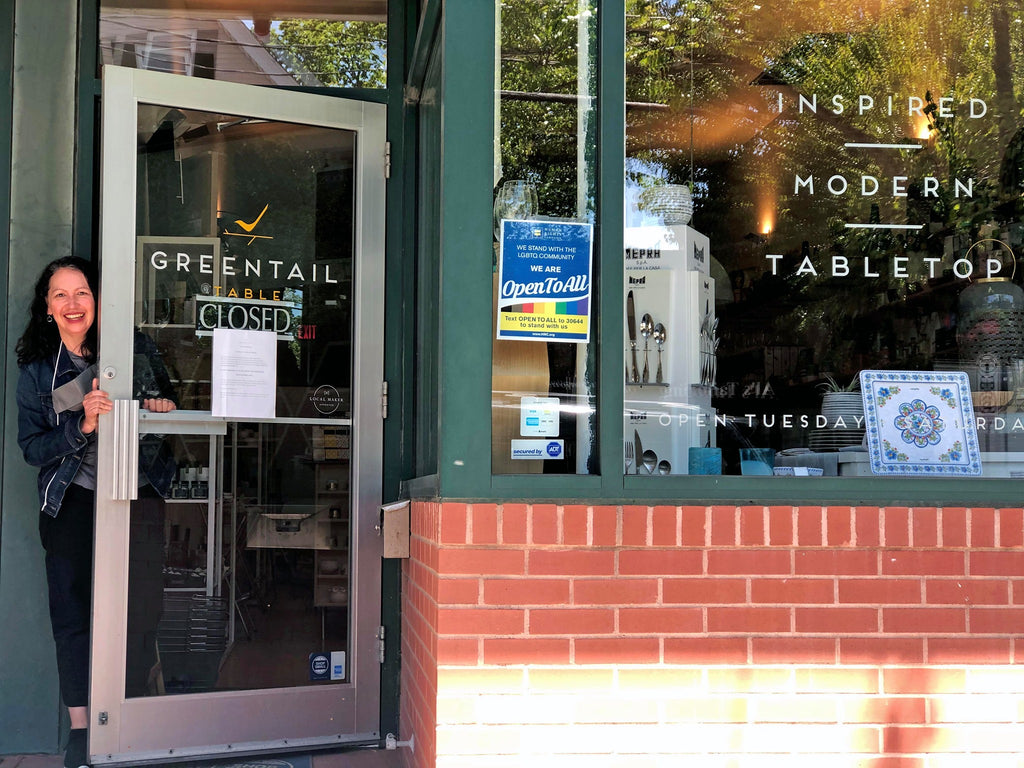 Phase 2 reopening is underway and we will be ready to receive you back in the shop with a virtual hug and a big smile beneath our masks on Wednesday, June 10 at 11AM!
For the safety of all of our customers and staff, we have instituted the following guidelines to make for a healthy shopping experience.
CAPACITY - Our maximum capacity will be 2 shoppers at a time. We will have two socially distanced waiting spots outside the front of the store. We ask for your patience as we all get used to our "new normal" shopping procedures. While we have always enjoyed having children in the store, at this time, we want to make our shopping experience adults only.
MASKS - All customers must wear a mask to shop in the store. We will have disposable masks available in the shop if you do not have your own with you. If you prefer not to wear a mask, we ask you to please take advantage of our Online, Phone, Free Delivery, Curbside Pickup and Facetime shopping options.
HAND SANITIZING - Upon entering the shop, please sanitize your hands at our hand sanitizing station, placed immediately to the right of the entry. Disposable gloves are also available. We ask that you please limit touching as much as possible to items that you intend to purchase. We have worked to make all of prices easily visible without handling.
SOCIAL DISTANCING - We are practicing social distancing in the shop. Please follow all social distancing signage when in the shop.
PAYMENT METHODS - We will only be accepting credit cards for payment during this first phase. We have changed our credit card reader to a tap or chip reader and signatures will not be required for most purchases.
RETURNS and EXCHANGES - All Sales are Final during the COVID-19 pandemic. No returns or exchanges. 
SANITIZING - We will be sanitizing high touch surfaces frequently throughout the day.
Lastly, we have changed our shopping hours for this phase:
Monday - Saturday 11AM - 4PM
We appreciate your patience with us as we enter this first phase of reopening. It will be a new experience for us all! 
We look forward to seeing you when you are ready!
Not ready to shop in-store? No problem! 
ONLINE - You may still shop online at our website: greentailtable.com
ORDER BY PHONE - Please call us to place your order by phone if prefer instead of online.
FREE DELIVERY - We will continue to offer free delivery for orders over $25 to Newton, Watertown, Waltham, Belmont, and Cambridge.
CURBSIDE PICKUP - Curbside Pickup will continue to be available. Call or order online to pickup curbside.
FACETIME - Schedule a FaceTime shopping session with us.
BY APPOINTMENT - If you would like to schedule a private shopping session outside of our opening hours, please email us at customerservice@greentailable.com or call the shop.